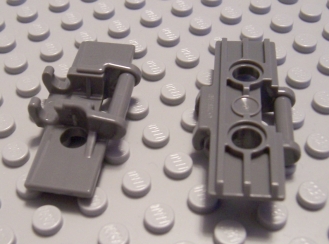 According to a post at nxtasy.org we will likely get the new TECHNIC wide link treads also in black color, with a 2nd half 2008 LEGO set!

This will probably happen for a non TECHNIC set (7645, MT-61 Crystal Reaper from Mars Mission theme). The initial prototype did not have them in black, but the final version most likely will, according to the same source.

Josh wrote that he noticed there were some rumors about black tread links also in 8294 Excavator, but that this will not be the case... :(
Hope it was not me who started such rumors when I wrote "Just wonder if the treads are Black this time, instead of Dark Bluish Gray!? They look like...", at this post. ;)

Anyway from my perspective this black variation is very welcome! (lets wait and see...)

Great it would be if LEGO also design some small rubber fits, for the new tread holes, so they could get better adherence at some floor types (like vitrified mosaic). This would be a nice addition for motorized treaded models like the Bulldozer (8275).



Edit:
See them, in a picture from 7645, taken at Toy Fair 2008 (New York).


Last Update: 2008.Feb.19 02:29 GMT