Too much in the sense of previous post...

A lot about Kinetic Sculptures, based on the developments from Theo Jansen, and LEGO TECHNIC implementations of his models.
Theo Jansen is a Dutch artist born in 1948 and a Kinetic Sculptor. He builds large works which resemble skeletons of animals and are able to walk using the wind, on the beaches of the Netherlands. His animated works (almost hypnotic to watch) are a fusion of art and engineering.
Read the interview with the artist who believes these "animals" may live in the beaches after is dead.
Also someone referred to him as "A Modern-Day Da Vinci Genius", and so the relation suggested on this post's first line. ;)

Essentially these sculptures are like robots powered by the wind only. However unlike these, some others tried to mimic Theo's designs with LEGO TECHNIC models, but powered with one or more 9V motors. Well, not all, see ahead. ;)
Below the most known TECHNIC implementation by Chris Magno (on the left), together with a magnificent BMW commercial with Theo's original (on the right).


Chris presented his creation, last October at
LUGNET
, and have several photos at his Brickshelf
folder
with instructions, for his implementation of TJ's leg. Philo made his own implementation (see the
video
from his
website
) and someone tried to make also one that moves with the wind, but well... it moves however can't walk for itself.
If you look for, certainly will find more implementations like these, existing in the net.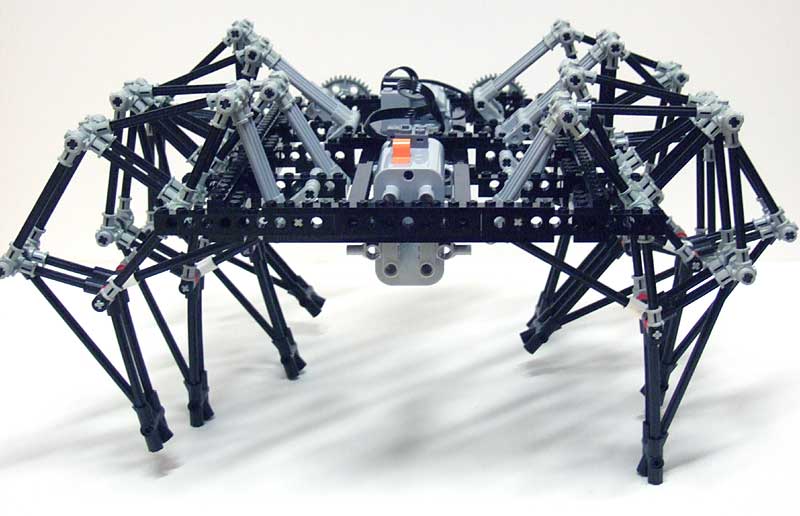 From left to right:

Chris Magno's TJ walker; Philo's TJ walker; The wind moving version (once the author doesn't have parts enough, it has legs at one side and wheels on the other).
Interesting are also the simulations made on the TJ's leg geometry and parts proportion to make it move smoothly and without significant balance. See a few videos below,
From left to right:

Simulation CGI with Softimage|3D and Adobe After Effects; Mechanism simulation made with The Geometer's Sketchpad 4; An horse variation from ClockworkRobot.com.
The flatten and wider the curve described by tip of the leg, the better it would behave.
At his website, Philo described how he simulated it using
Euklides 2.02 geometry freeware
.
On the other way you can try it yourself easily, through the controls on the interactive flash animation below.
And finally some other videos of Theo Jansen's creations.
From left to right:
Animaris Rhinoceros; Strandbeest; A Theo Jansen lecture.