Eric Albretch (author from Technicopedia, aka Blakbird) published today an excellent review from the new 8263 (Snow Groomer) at Eurobricks.

I loved the review contents, the details put on it and the style that we are already used to, from Eric's reviews at EB. I always feel they have also a very subtle sense of humor.


I also felt this set as pleasant surprise, which revealed much better from what some of us may have thought, looking at the first box art images.
It made me realize how wrong and unfair the opinions based on too early images, could be. Certainly one good reason for TLG trying to control and avoid any early image leaks.
That said, I can only recommend you to read it and I take the excuse to skip reviewing this set, once I receive mine, as I believe to not have any relevant things to add.
I should receive also my own
8258
(Crane Truck) late this month and
8265
(Front Loader) end of August. Most likely by that time, Eric already made his own reviews too, and hopefully as good as this one.
Meanwhile the
8258
(Crane Truck) inventory was published at
Peeron
, and from there you know in detail which are the new and old parts included, colors, quantities, etc...
An excellent and huge assortment, I'd say. As of relevance and making faith on its accuracy, you may find:
1x PF XL-Motor, 1x PF switch, 1x Battery box

2x Linear Actuators
5x Axle joiner perpendcuar triple
7x T-beams

Near 80 gears
7x new gear racks (13L)

1x differential
3x driving rings and 3x driving ring extensions
3x H-shaped beams and 8 rectangular beams
21x panel pieces of several types with the latest and actual style
Enjoy!
Edit:
Realized meanwhile from a David's comment, who contributed with the 8258 inventory to Peeron, that this truck will come with a new version of the '62.4 x 20' wheel.
Basically if features a shorter axlehole, in comparation to the previous wheel design.
Also it looks like the new version uses a '+' hole, to compensate the friction decrease by shortening the axlehole, instead of the 'x' hole of the former version (too use the BrickLink characteristic naming convention).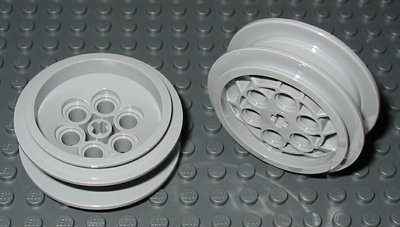 The older version on the left image, and the newer one on the right.
Last Update:

2008.Feb.19 02:29 GMT