This may turn into a controversial post... Read it, at your own risk!


Sometime ago, one of you raised my attention to both a BrickLink and independent stores, selling Technic like parts made of aluminum.
Of course it sounded interesting to me, so I had to make some investigation about...


What I found was a guy (Bill Shaw) in US (Florida), who decided to start producing Technic like liftarms made of aluminum, as well as some other custom parts made in the same material.


Below and before some mere detailed considerations, I left you with the links to Bill's independent and BrickLink stores:
-
Inanimate Reason
(
Shop
)
-
Bill's Brickland
(now also
Inanimate Reason
, and the
direct link to the custom parts
)
It all started as a supplement to enhance Bill's MINDSTORMS projects. All the elements are made to work with the original LEGO Technic elements, but what makes them interesting is the fact of being made from high grade 6061 aluminum, instead of plastic. All the elements are designed in shapes not available through LEGO, but that somehow may help you to solve some specific needs.
Aluminum gives exceptional strength and rigidity while remaining relatively lightweight. Strength lets you build bigger, taller and sturdier while enhanced rigidity helps stiffen your model/chassis.
As far as I've tested some samples that Bill was kind enough to send me, each of these parts weight about three times, what their ABS equivalent would weight. At the same time they are a lot more resistant and won't bend or twist as easy under load and stress conditions.
As these parts are also produced in larger sizes, they will allow you to create longer and more resistant structures without the need to bridge as often. By using a single aluminum beam, you'll have far stronger frames with fewer weak points.
The idea for an independent store, came due to the fact that custom parts are not tied to the extensive catalog of LEGO parts in BrickLink's database. Consequently they won't show up in a BrickLink search, thus you must know they exist and understand how to navigate the site to find them.
Also the little detail allowed in BricLink descriptions and considering that as the product range expands these elements will become less LEGO dependent and more a crossover product, made evident the need for an independent store.
As for the custom parts themselves, they have holes which are 1 thousand of an inch smaller then LEGO ones, to make the Technic pins fit tighter to accommodate the extra weight from the aluminum liftarms. The Technic axles and non-friction pins still move freely with no resistance at all. The pins require a little extra effort to install and remove, but you are rewarded with much tighter connections that have less slop.
The aluminum elements are all machined and initially there there were some in both natural shiny and black anodized versions. Actually the store is offering the black anodizing as a free custom service by request.
If the customer wants some or all of the ordered elements sent with a black finish, this is done at no extra charge, just adding about 10 days to the shipping time, for the anodizing step.
The currently available parts can be divided in a few categories and as mentioned above, they are all designed in complementary shapes not available from LEGO. Lets take a closer look.
Longer odd sized liftarms
LEGO liftarms are predominantly made in odd numbered sizes up to 15L.
Here straight liftarms, are produced in lengths up to 25L (17, 19, 21, 23 and 25).
These longer and stronger liftarms are ideal for getting some extra reach in booms, vehicle chassis and towers.
17L at left and 25L at right image
Even sized liftarms
These are produced in lengths down to 6L (12, 10, 8 and 6)
6L at left and 10L at rigth image
Special liftarm shapes
There is a 1 x 9 Bent (5-5) liftarm with a 135º angle despite also different from the LEGO standard (143º) -
Here
you may find a good justification for the original angle, after all it seems all derived from the
Phytagorean Theorem
. And there is a 6-6 Adjustable Angle liftarm ranging from 60 to 300 degrees (fixed with a 2 mm allen wrench) which reaches 11L when extented and has alternate hole patterns at each section.
The next couple, is a pair of right angled parts. One 4x4 L-Shape (curiously an "original" part
listed at BrickLink
, but never seen) and one 5x3 T-Shape. All these with standard hole pattern.
And last but not the least we get another set of innovative parts. One 9L 45º Arc liftarm and a 19L Crossover liftarm with 3L tall.
The arc is 9 holes (5 deg/hole) and 8 pcs make a full circle with 12L center radius. Hole pairs along the curve are perfectly spaced and suitable for connection to other liftarms.
Below you can see also a picture the perfectly illustrates how some Technic connectors and pins still connect with the curved liftarm. This being achieved at no noticeable extra cost or parts stressing.
The Crossover liftarm features four 135º bends. Its 19x3 shape allows for instance, to build a vehicle chassis with high clearance to ground.
It offers a total of 19 different connecting pinholes on both horizontal and vertical directions, for utmost flexibility.
Extended connectivity liftarms
Assortment also includes some parts which offer increased connectivity possibilities, namely with multiple orientation pinholes in the same beam or pinholes with 1/2L offsets which we will better depict ahead in this section.
Some available parts have pinholes in both horizontal and vertical faces or directions, for increased connection possibilities. Probably at the cost that sometimes you won't get the pinhole with the orientation you need at the right place you need it.
There are 3 and 5L versions with alternate hole pattern and a 7L version with a 2-3-2 pattern. There is also a 21L version with 7 groups of 3 standard spaced holes at alternate beam faces.
The second class of extended connectivity liftarms, as I've called them, are two liftarms which offer offset holes. In a traditional liftarm, the holes are evenly spaced. Here holes or groups of holes are offset by 50% from the adjoining hole (1/2L). This may increase building complexity, but also offers extra possibilities where required, allowing for instance to create gear trains with ratios not otherwise possible.
On a standard beam you can fairly easily inter-mesh the 8, 24 and 48 tooth gears, since their center holes align perfectly with the standard holes grid spacing. However if you want to mate any of these gears with a 16t gear you'll need to add a second dimension.
There is a 19L liftarm (18 holes) with third hole offset for special gearing ratio (e.g. 24 and 16 tooth), and one 24L straight liftarm with 21 holes spaced in 7 groups of 3 (50% offset between groups).
Below an example where with one of these liftarms, you can have a 16t gear sandwiched between one 24t and one 48t, making both outer gears to rotate in the same direction (despite the pointless example because it could be also achieved with any a 8t or any other).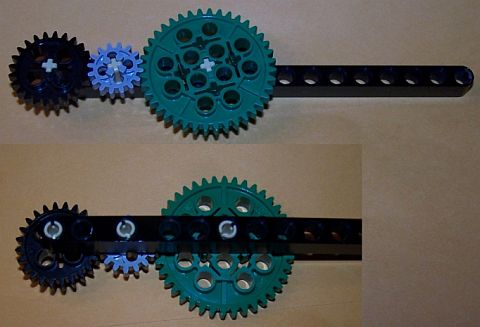 Connection kits
There are also connection kits, combining the custom machined elements above or similar, with items sourced from third parties to allow for complete solutions. The example can be the "Screw on Connector" kit.
With these you can take your Technic based models and integrate them with off-the-shelf RC components such as servos and controllers. You can connect through existing LEGO or custom liftarms and attach liftarms together, much more securely than with a Technic pin (or even a row of pins), wherever it may be required.
The "Screw on Connector" kits provide a set of small liftarms that contain a mix on Technic compatible pin holes and threaded holes for attaching cap screws. Refer
here
for a complete inventory list.
Drivetrain with miter gear kit
This was the last addition. According to the authors claim, it allows the creation of extremely robust drivetrains.
In the images below, the kit constituent elements [
1
] and a built example. For more details refer to the
respective article
, at the Inanimate Reason.
The gearbox illustrated in the demonstrative built is different from the one included with the actual kit version.
But there is more to come in the future... Ball bearing embedded liftarms for high torque applications; adapters to use LPF XL motors and other higher torque RC motors; transmitter and receiver interfaces for RC motors, servos; USB servo/motor controls for Win XP, etc...
For more information about all this, you may read in the links provided at the top of this post.
Build it longer, sturdier and stiffer!
Edit:
As far as I've learned, metallic parts mentioned in this post are not sold anymore at BrickLink by Inanimate Reason store, but from the original producer.
Brick Machine Shop, from Khanh Ly (Eezo)
Last Update:

2012.Mar.02 07:05 CET