A few weeks ago, Sariel presented us with a new gearbox design.
This time a 3-speed sequential synchronized gearbox, that shifts pneumatically and thus can be fully remotely operated with ease.
Put in the author's words 'AeroShift Gearbox', once '3-speed remote-controlled sequential synchronized pneumatic gearbox' didn't sound that catchy...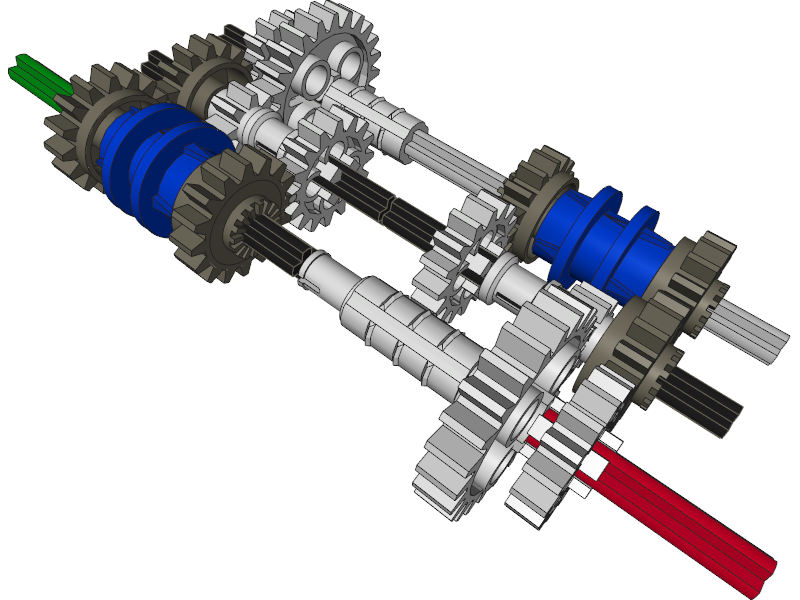 This gearboxes can operate with ratios: 1:1, 3:1 and 9:1. But can be easily modified to 1:1, 1,66:1 and 2,77:1 ratios, if they better fit your model needs.
The dimensions are 12 studs long, 8 studs wide and 4 studs tall (plus some extra space on the top, for the pneumatics).
This was made modular, so that extra speeds could be achieved by adding extra modules (one per extra speed) at the cost of extra space (which will increase fast and dramatically) and a more complex pneumatic control system.
This is however a very good exercise and proof of concept from Paul, for a very challenging problem (the sequential command for N-speed gearboxes).
You may find a lot more information from the realization perspective and images, from the original post at
Sariel.pl
.
However stay tunned, there is more about sequential gearboxes out there!