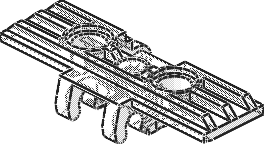 The last two posts here at TBs
have been about tracked excavators, therefore this is somehow still in the subject.
Months ago, someone noticed a
design change in the small Technic Link Chain
element most likely as a measure to reinforce this part and prevent break in service events.
A few days ago my friend Martyn, told me about a new finding from John Brost [
1
,
2
,
3
] concerned with a small redesign also to the modern Wide Link Treads (
57518
).
The original version have a slightly different design from the newest parts and thus LEGO should have changed the mold. This was found by John while playing with ideas to build some large wheels, using circles made of these tread links turned inside-out.
By mixing some old and new parts from different sets, suddenly some wheels became very un-wheel like. Looking to find where the problem was, John found to have two types of different tread links. The newest ones had little protrusions in the contact to the next link, that make impossible to create such circles as small as with the old style. Digging further he found also that alternating new & old style links would prevent this issue, despite not very convenient having to sort them all...
Although both types will work fine with each other, if mixed in the same track.
Because an image is worth a thousand words, below a couple of pictures with annotations from John, which better show the difference between old & new parts design.
Click to enlarge the images and better read the embedded notes.

The change should have occurred in 2009, since all my DGB and Black links stock from 2007-2008 sets (
8272
,
8275
,
8294
and
7645
) have the old style links. Just got the ones with new design, at sets
8263
and
7632
already from 2009.
Despite the mold modification, both parts exhibit a "© 2006 LEGO" mark and the same mold reference (57518).
Both John and Brian Davis at
The NXT STEP
, have advanced some increased side-to-side stability (lower flex) as a probable motivation for the change. However I wasn't able to observe such difference even at long track spans. Hence, apart the larger backwards radius, any other eventual reason for the change is still a mysterious.
Still the benefits at not so large spans, are not yet evident to me! And even for those (large spans) we can hardly take advantage of, once the admissible radius is still relative low.
Maybe it could help to prevent tracks to slip-off from bogie wheels, or even from breaking at extreme conditions. Don't know!