Since we are all excited about the new 8043 LEGO Excavator, nothing more appropriate than another great Excavator to rejoice.


After some flaws and challenges (if you have been following it from facebook), Paul (Sariel) published yesterday his new pneumatic Excavator (a model from Volvo EC290C). It is a fully pneumatic excavator with a full remote control. It differs from almost everything else ever made before, because former similar models use to have a remote tethered by the pneumatic hoses, which houses the pneumatic valves and usually also the compressor, battery box, etc...

Thus one of the main challenges consisted to fit everything needed inside the superstructure, inclusive the electric command for each individual valve. For this Paul used the concept developed by Dmac, another LUGPol member (but that's a topic for a later opportunity...).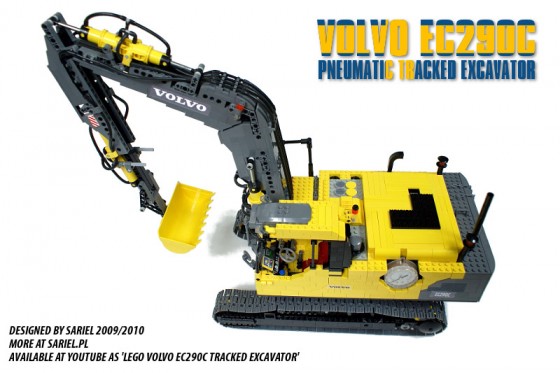 The model features:
7x PF M-Motors
1x 71427 motor
3 pneumatic circuits with 8 cylinders total, for each of the arm 3 sections (boom, dipper and bucket)
Internal 4-pump compressor with integrated manometer
As usual, you may find all the construction details, photos at
Sariel.pl
.
This is to me, certainly the Holy Grail concept for a LEGO Technic Excavator! Pneumatic, fully remote controlled and with all the required elements on board.
There are certainly some issues requiring improvement in this model. It is quite unusual on Paul's models but this was a very difficult challenge and I think Paul wanted to finish at any cost in a reasonable amount of time, instead of delaying by going through a succession of heavy rebuilding steps. Nevertheless I guess this is not going to be the last Excavator in this class, we will see from Paul.