Kenneth & Lasse that you may remember from the "C5 - The Flying NXT Blimp" project, returned with a massive creation!
They have now created a sorting plant, that sorts 2x4 and 1x2 bicks in size and color. This is a model commissioned by Dynaway and it is used to demonstrate their manufacturing execution system. The model was designed to fit inside a large flight case, so that it can be easily transported among demonstration events.

The bricks get sorted directly into pallets in a high bay storage system. When a new color is detected, an empty pallet in the high bay storage is assigned to the color. When a pallet is full, a robot retrieves it, and returns a new empty pallet.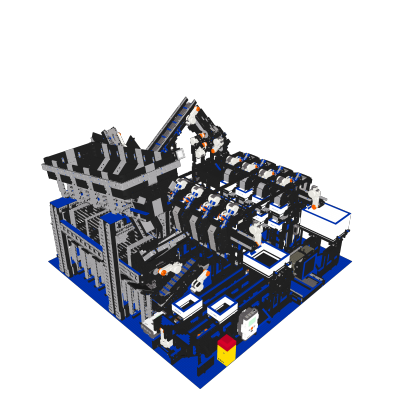 There are 7 NXTs in the plant and they all communicate with each other and a PC application over Bluetooth. The software was written in leJOS, which is a java language for LEGO MINDSTORMS.
Together with these, there are many more NXT motors and sensors. You should visit the
BrickIt
team's website, for more details.